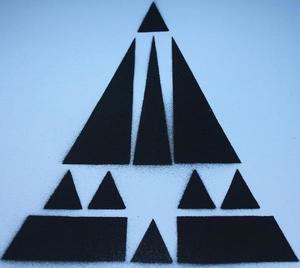 £

5.00 - On Sale
Our debut selftitled EP, OUT NOW!
EP comes with a personalised sleeve, the artwork individually hand printed. Limited run, hand numbered.
Track list:
1. All The Other Humans
2. Before I Begin
3. 1 in 3 (Shotgun Not Me)
4. We've Got It All Right Here
5. Social Constructionists
6. I Am Alive And You Are Dead
If you live outside the UK, or you want a bundle that's not on offer, please email us at contact@wearetrails.com and we'll sort out whatever you want!
PRESS:
'Trails have an exciting, original sound and could have a bright future if they follow up on the promise shown here.'
- 8/10 Rocksound
'This is a promising start from the band that are not yet a year into their career. It's a well-structured and well-rounded release that very few artists who have just started out can boast about.'
- 9/10 Dead Press!
'Wrapping sweet melody and frustrated lament around the kind of jinking, angular alt-rock riffage that keeps Biffy Clyro in haggis and kilts, there's a frank agenda of serving up difficult truths.'
- 3/5 Kerrrang!